Dehradun is a great hilly place that you can explore in your weekend. And this site will be a great weekend getaway in Dehradun if you want to grab some fresh air to a hilly area from daily chaotic life and exhaustion. This article will cover few best places that you can explore in Dehradun and a short rad trip journey by which you can reach to Dehradun.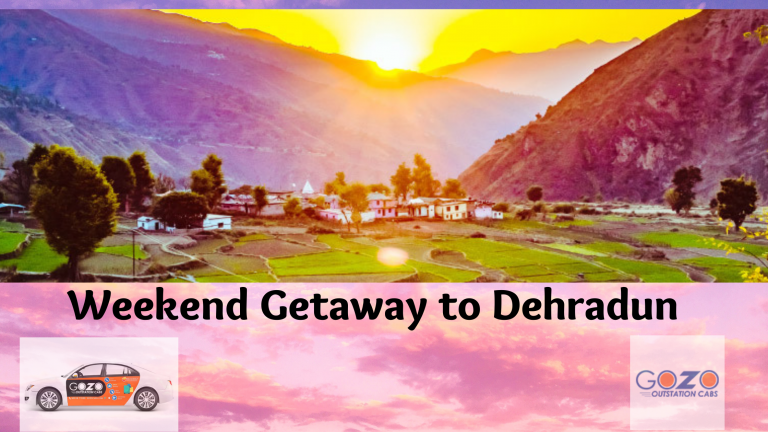 Little About Dehradun :
Situated in the foothills of the Himalayas "Dehradun" is a beautiful city and the capital of Uttarakhand. The place got its name from two phrases "Dera" means camp and "dun" meaning valley. This is the oldest city in India.
In the British era, this city became the most elite town of India with many institutions and organizations. The climate is so great that the British oftentimes visit there for their relaxation and also for their official working purposes. This city also possesses many history. So if you are a history lover then you definitely going to enjoy this place.
The city often coined as the "Rainy city of India" as continuous rainfall here, especially during the monsoon. The cool and pleasant climate in this city makes this place a very attractive tourist destination in India.
And every year this city attracts lots of visitors from all over the place. So go and explore the most beautiful part of India. The city is full of beautiful landscape destinations and adventure places that you don't want to miss .
Here in this article, we will discuss few places that you should visit and stay tuned for more places, we will discuss many more places later.
For in city local travel cab requirements in Dehradun book Gozocabs for getting the best rates.
Dehradun travel Options :
The city is connected with multiple option, you can visit here through train, bus, cab or by car or via flight. Jolly grant Airport is the airport in Uttarakhand and you can take flight from any place to Uttarakhand.
As, this article is about a short weekend getaway to Dehradun we will tell you how to reach from Delhi to Dehradun
Let's discuss the various travel options :
Delhi to Dehradun by train :
There are multiple trains available from Delhi or New Delhi to Dehradun that you can avail. Please keep in mind to bok the train tickets before boarding to keep your seat reserved. It generally takes 5-6 hours to reach from Delhi to Dehradun.
Delhi to Dehradun by Flight :
There are multiple flight available from Delhi to Dehradun. The flights generally takes around 1 hour to reach Dehradun.
Delhi to Dehradun by Bus :
There are many buses available from Delhi to Dehradun. Delhi to Dehradun by bus generally takes around 6-7 hours. Visit bus booking websites to book your bus for a hassle free ride.
Delhi to Dehradun by car :
From above all the travel options, Delhi to Dehradun by Car is the most comfortable journey option you can avail. Delhi to Dehradun is around 250 Km in distance via roadways and it will take around 5 hours to reach, and you can experience the most amazing journey. Delhi to Dehradun cab with Gozocabs starting from around Rs 2200. A chauffeur driven cab from Dehradun to Delhi via road is a mesmerizing journey you can experience with your friends, family, and loved ones. And with Gozocabs you can take journey breaks to eat tasty and amazing roadside foods.
Here is the list of five best short weekend getaway in Dehradun you can explore :
Chakrata : At the top of our weekend getaway to Dehradun list is the Chakrata, the beautiful place with many more things to do this place is a picture perfect place you can visit. The place is small but there are many things to do which will take a lot of time. The place is covered with forest, waterfalls, hills, etc that will mesmerize you with its scenic view. There are also various places where you can visit Tiger Falls, Budher Meadow, Mundali Meadows, etc.
Har ki Dun : If you are fond of trekking then Har Ki Dun is the place you must need to go. Tourists mainly visit this place to experience the trekking within Alpine forest covered 45 Km of the area and you can experience the beautiful panoramic view of Garhwal Himalayas. This trekk generally takes 5 days and you can experience the beautiful scenic natural beauty within this trekk.
Rupin Pass: If you are adventure enthusiasts and love scenic and natural beauties then this Rupin pass is worth viewing. This high altitude terrain in the Himalayas has an old shepherd route that connects Dhaula in Dehradun to Sangla in Himachal Pradesh. Along the route you can see changing climates, you can see rocky wooden bridges, snow places, and an awesome view of hills. Throughout the trek, you can view amazing scenes. This place is not commercialized so if you are on a weekend want to leave the city chaos then go visit Rupin Pass.
Assan Barrage : The Assan Barrage is a small dam that is made on the Asan River to divert its water to the East Yamuna Canal. You can experience various birds in this place, a paradise for bird watchers. This dam creates a small reservoir named as Dhalipur Lake.
Bali Pass : This place is for trekkers basically some advanced level trekkers, as this trek is tough. With trekking, you can cover two beautiful places the Yamunotri and the Har ki Dun Valley. On this trek, you can experience the beautiful Himalayas.
Well, this is a short description of a weekend getaway to Dehradun which you can visit. For any kind of car rental requirement contact Gozocabs or visit the Gozocabs website or download the mobile app for affordable and reliable cab service in all over India.
I hope you liked the article, please stay tuned for more articles.
If you are from Chandigarh and wish to travel to Dehradun then explore the weekend getaway to Dehradun. You can book a cab for your Chandigarh to Dehradun journey with affordable and comfortable AC options.